Today is the last day of the campaign for the national and local elections. This coming Monday, we are about to cast our votes to select people who will lead us into the future. As you ponder on who to vote for, this reflection will hopefully help you in selecting candidates for elected posts this year.
First, I will take a cursory look at the past 3 years, then discuss what's at stake in this elections.
What has happened before
Let's begin by looking at the landscape of the past 3 years, as these collective experience should guide us on what path to take for the next 3 years.
Rodrigo Duterte was swept into office because of his promise of change. Whether that change has come or not depends on whether:
You are an ardent supporter or
A former supporter who had given up on him or
Someone who voted for another candidate and now is a supporter or
Someone who voted for another candidate and is glad you voted for someone else.
I am the fourth person, so this post is colored by that choice (yellow, as DDS will say).
A video summary
Update (5/13/2019): Here's a short video summary of the past 3 years under Duterte, as seen by a comedian in the US.
The drug war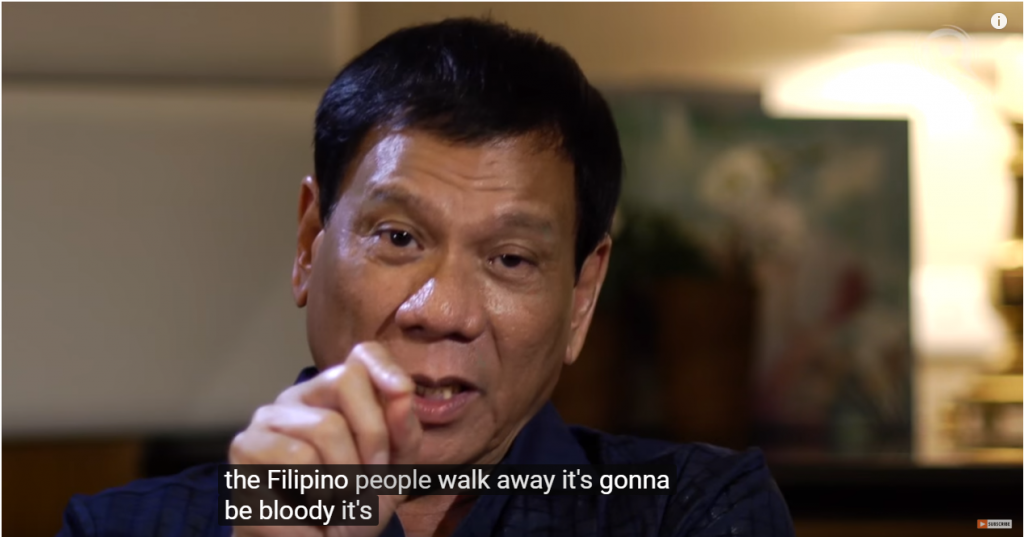 Duterte promised a hard stance against drugs. It will be bloody, he said. And how bloody was it? We will never know at this point. Nobody's counting properly. The PNP invented a new statistical data point: deaths under investigation, a special category separate from murder. Media has stopped counting; look at the Inquirer Kill List – it has stopped a year after Duterte took power. The government's own count pegged the deaths at 5000 at the end of 2018. The Human Rights Watch pegged the deaths at 12000 at the start of 2018. There's no way we can audit these numbers, and by inventing a new category, this government skews the data in its favor.
His drug war almost got derailed with the murder of Kian delos Santos and Carl Arnaiz by policemen. There were large protests against these murders, and Duterte even had to meet with Kian's parents to put out the fire. These murders and their aftermath led to PNP recalibrating its operations and Duterte's drug war continues.
The economy and infrastructure
Duterte promised a golden age in Philippine infrastructure and a pivot to China as main foreign partner. Branded BUILD BUILD BUILD, his administration has decided to move away from public-private partnership into a so-called hybrid one, where the government builds the infrastructure (most of them funded by Chinese loans) and the operations and maintenance bid out to the private sector.
Several of the projects were called out for being unnecessary and even posed danger. Some of the projects listed in the BBB are carryovers from the previous administration (Mactan Cebu airport, for one), and some big ticket items have yet to start (NAIA replacement, where there are numerous competing proposals), 3 years into this administration.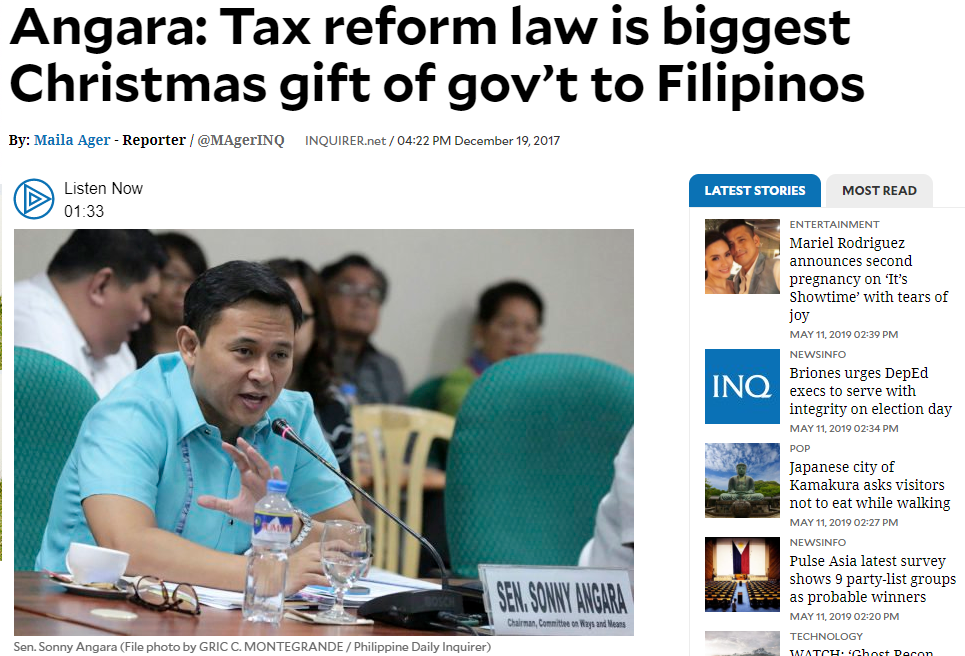 Because not all projects can be funded through loans, the government has to source the funds internally. Through Sonny Angara, the 17th Congress has passed the Tax Reform for Acceleration and Inclusion Act or TRAIN Law, the first in a series of comprehensive tax reforms foisted into the Filipino taxpayers by the Department of Finance. While it increased the personal income tax exemptions and reduced in others, the law also imposed additional taxes on sugared beverages and imported oil. It also led to high inflation rates never experienced in five years.
Just recently, two conflicting economic news greeted the Filipinos: an upgraded S&P credit rating and lower than projected Q1 2019 GDP growth, a four year low.
Politics and political institutions
Duterte enjoys an unprecedented control over the 17th Congress, with a supermajority in the House of Representatives and a majority in the Senate.
The lower House (aptly called) remains a rambunctious chamber, abominably led at first by Pantaleon Alvarez, and was used to harass Duterte's enemies like Senator Leila de Lima and former Supreme Court Chief Justice Maria Lourdes Sereno. The lower chamber reached its lowest in two counts: when it even thought of playing a so-called sex video of de Lima in a House hearing, and holding the 2019 budget in hostage.
The Senate has lost its so-called independence. When Senator de Lima, as chair of the Senate Justice Committee, started hearings on Duterte's drug war, horror stories began to emerge. Duterte's allies in Senate were alarmed, and had her removed as chair, a move initiated by Duterte lackey and boxing champion Manny Pacquiao. She was replaced by another lackey, Dick Gordon, who terminated the hearings soon after. The Senate has not held any hearing against Duterte's policies to date.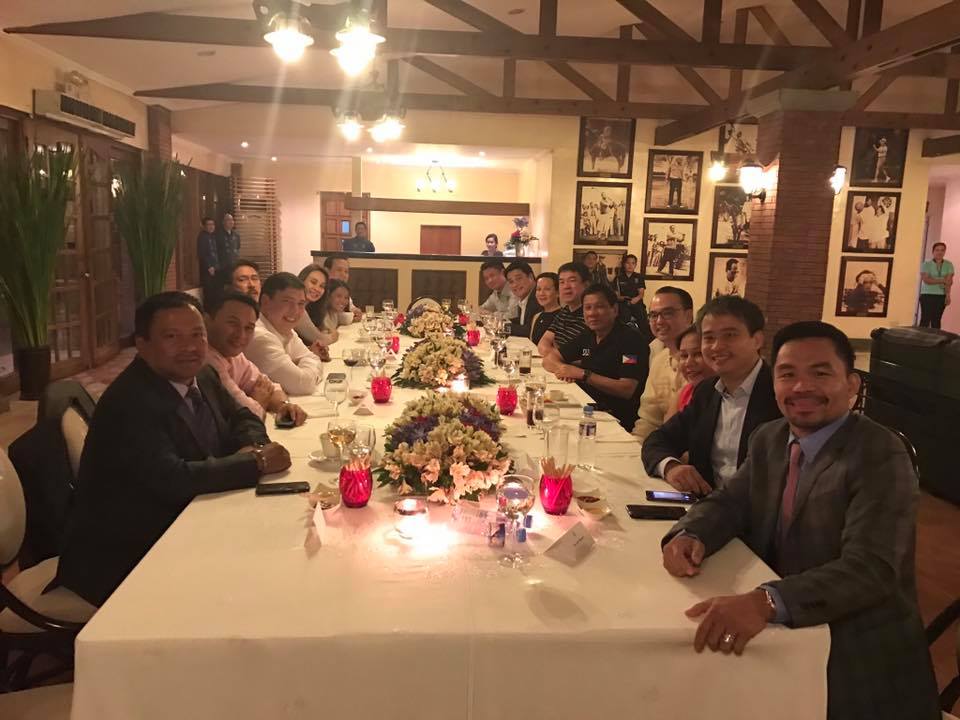 The Supreme Court fared no better. The track record of Duterte's Supreme Court is obviously biased for Duterte, with Gloria Arroyo/Duterte appointees voting consistently. Interaksyon has several infographics showing the voting pattern, and I am taking the liberty of linking the images here.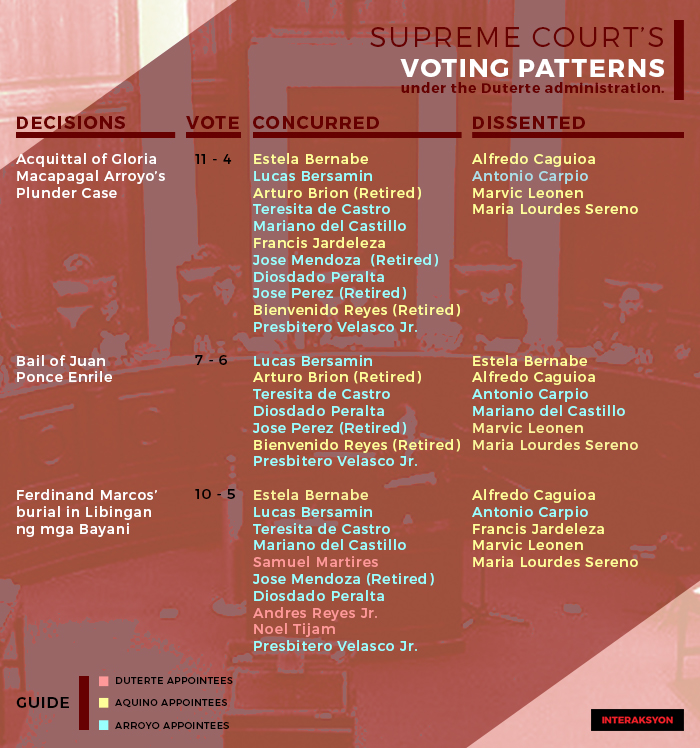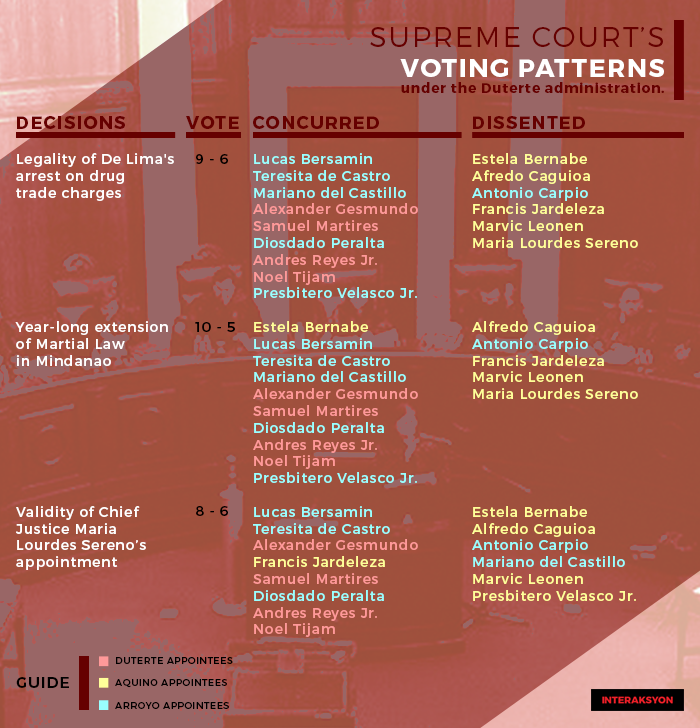 One of the most controversial, and the most glorious victory for Duterte so far, is the ouster of Chief Justice Sereno through a quo warranto petition, a remedy that most law experts deem as unconstitutional.
Duterte has already appointed 6 justices in the Supreme Court; by the end of his term, he would have appointed 13 of them, (at least 4 retiring this year alone), and may appoint up to 5 chief justices (he would appoint none if Sereno retained her seat).
Our society
Duterte enjoys unprecedented high approval and trust ratings. Just recently, 79% of us Filipinos approve of his performance.
At the same survey, 69% of Filipinos are satisfied with Marawi rehabilitation – when it hasn't even started yet.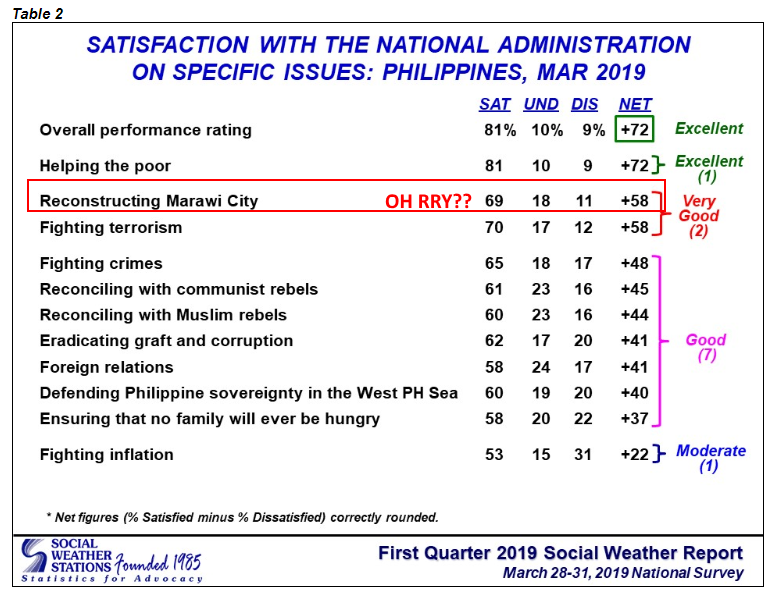 What's happening here?
What's at stake
In short – a lot.
We need an independent Senate
The Senate of the 17th Congress has proven to be very docile if not very supportive of the Duterte administration. It has passed most of Duterte's priority legislation, and has refused to exercise its power of investigation and oversight regarding this administration's actions and policies. The Blue Ribbon Committee, headed by Gordon, has been reduced to whitewashing.
Duterte allies currently dominate the Senate and the House. Voting for his allies means it is quite possible for a Senate supermajority in favor of Duterte. What does this mean? Aside from breezily passing priority legislation:
Duterte can easily impeach anyone he likes, something that he has failed to do in the 17th Congress because there are enough independent minded senators who could vote against him. A supermajority of docile, supportive senators give him an edge in impeachment.
They can easily remove de Lima from the Senate itself. They tried before (and failed), but with a two-thirds majority for Duterte, they can try again. Heck, they can remove all members of the minority if they so wish.
There's no possibility of the Senate asserting its independence and exercising its investigative and oversight powers.
And of course, it becomes easier for Duterte to ram charter change and federalism down our throats.
Only four opposition senators remain in the Senate as it enters the 18th Congress. A shutout (12-0 for Duterte) will be fatal. Duterte will have an unprecedented rubber stamp 18th Congress.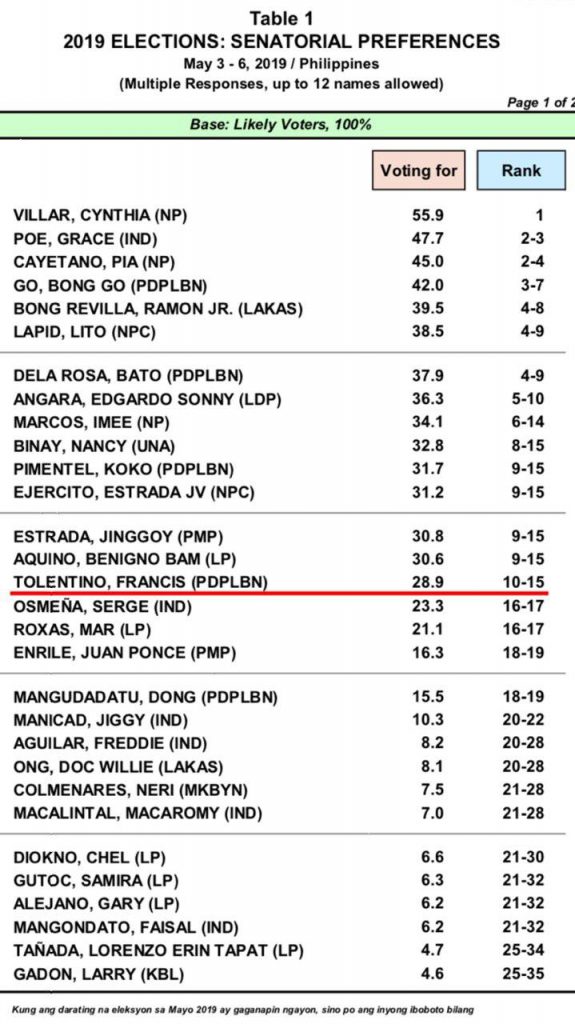 We need certainty on economic matters
The TRAIN law was met with mixed reactions. The middle class rejoiced when their income taxes were reduced (except for ROHQ employees who saw their income taxes skyrocket when the preferential tax rates were removed); the poor, who were already exempted from income taxes, were burdened with increase prices in some commodities; and almost everyone was hit by high inflation brought about by high oil prices exacerbated by additional excise taxes imposed by TRAIN law.
The second package of the CTRP, supposedly to be named TRAIN2 but hastily renamed to TRABAHO bill due to negative connotation brought about by TRAIN1, is pending and is due to be refiled at the 18th Congress. This bill aims to reduce corporate income taxes and rationalize fiscal incentives given to foreign investments in PEZA locations, including BPOs. Already, uncertainties in the proposed law are causing pause in investment decisions as to prevent possible losses when the bill is implemented.
The CTRP is sure to pass given a rubber stamp Congress. I am not totally against tax reform (it sure needs to be simplified so that you won't need a tax lawyer), but any proposals should be debated openly and carefully. TRAIN1 shows us how sloppy lawmaking can hurt the economy. We need a Senate that will bring clarity to any economic measures to be filed. A rubber stamp Senate will not help us at all.
Infrastructure projects should be transparent and pro-Filipinos
The current Senate held one hearing on China-funded infrastructure projects. While some senators called for disclosing loan terms, the administration promised to disclose details, but has yet to do so.
An independent Senate can actually scrutinize these deals. It has subpoena powers to compel the executive department to provide senators copies of contracts. The fact that the current Senate did not even attempt to secure copies is a sign of its acquiescence to the executive department. We need independent senators to make sure all deals are transparent and will benefit the Filipino people.
Political institutions should be strengthened
After 3 years since 2016 elections, it has become apparent that our political institutions are weak. The Constitution envisioned a government of three branches, each providing check and balance to each other. Our experience so far has shown that the legislature and the judiciary have abdicated their roles to check the executive's excesses. The Senate, supposed to be the most independent branch, is reduced to docility. The House remains the president's puppets. The Supreme Court has perverted its own rules just to accommodate the president's whims.
We must strengthen this check and balance. We start by making sure the Senate becomes independent by voting for candidates that are not allied to nor supports Duterte. We must retake the Senate and make it account for the executive's excesses by exercising its oversight powers.
The drug war must end
And of course, the murderous drug war must end. We can start by voting for independent senators who will not be cowed by Duterte's bullying. We must vote for strong, brave senators who will investigate the current drug war and condemn the violent streak of the war. We must vote for charitable and compassionate senators who will provide comfort and just compensation for the victims of the unjust war.
And most importantly: we must vote for senators that will be impartial if Duterte is impeached. Impeachment is another political institution that needs strengthening, and an independent Senate will ensure that impeachment will work. The current Senate makes any impeachment impossible.
Our soul as a society
Before we go to sleep days before the 2019 elections, think back on how we behaved as human beings. You will be horrified.
We laugh at (or tolerate, at best) rape jokes.
We put little to no value to human life, as long as it's not ours.
We don't have a sense of community. ("I don't care as long as I get my piece of the pie." "Ang bagal mo eh.")
We believe what we see in social media instead of news reports.
Our vote reflects our values. The candidates we choose should reflect how we want our country to act. And most importantly, the candidates that we choose should care about each and every Filipino, regardless of their color, ethnicity, economic status, and whether they are drug addicts or not. These candidates that we will choose should foster unity and pride, believe in a sense of community, and have an unwavering belief in each person's right to live.
Our vote is a reflection of what we want as a people, of what we want our future to be, of what our children's future should be.
Who to vote
It's up to you. Think of yourself 3 years from now. Think of your children's future 10 years from now. If you think a candidate will bring us to where we want to be in those time horizons, then vote for that candidate.
Vote for a candidate that will stand for you and will stand with you. Vote for a candidate that shares your values. Most of all, vote for a candidate that will ensure our survival as a nation – united, with dignity, and compassion and respect for each other.