What turned out to be a surprise is now turning into a dud.
On its annual Worldwide Developers Conference, Apple has announced that it is releasing its Safari browser for Microsoft Windows.
The initial reactions are negative. Here's a roundup on reactions regarding Safari for Windows:
* Alec Saunders: Take a pass on Safari
* Chris Pirillo: Safari on Windows? Yawn.
* Mike Cane: Apple Safari Browser For Win XP: Super Fast And Super Sick
* Ars Technica: Microsoft, Mozilla execs respond to Safari on Windows announcement
* Ars Technica: First look: Safari 3 beta on Windows vs. Firefox 2 and IE7
* TrendLabs Malware Blog: New Safari 3 Beta for Windows insecure
* Symantec Security Response Weblog: Vulnerabilities for Safari on Windows
The vulnerabilities are expected, since this Safari release is a beta.
My take: it is faster when loading pages compared to IE7, but FireFox is faster. Safari renders a page like IE; this blog appears almost the same with Safari and IE7.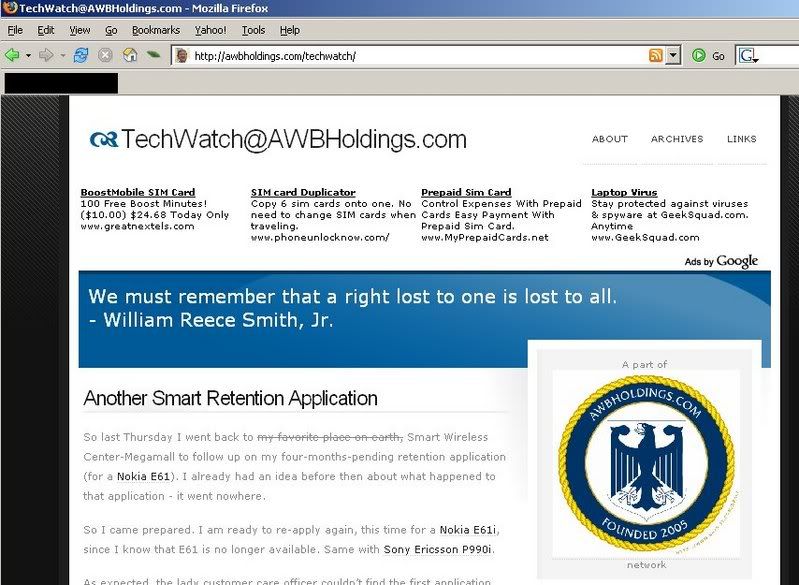 On Firefox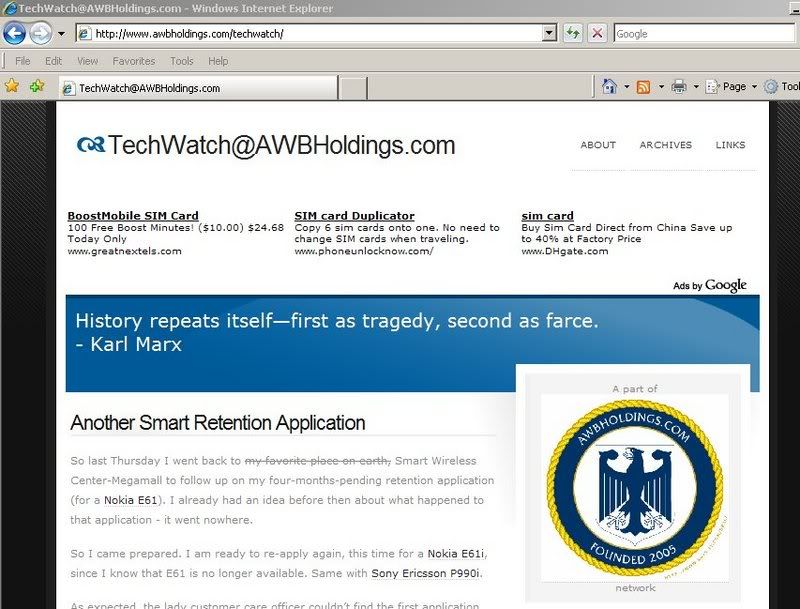 On IE7

On Safari for Windows
Though I must admit Safari renders this blog better than the two.
There's two, related running jokes regarding this move by Apple. One, Safari is a big Trojan horse. Second, Safari was released to highlight the fact that Windows is one security nightmare. Heh.
This is a good browser, not as fast as FireFox and Flock, but better than IE. But don't use it yet. As this is a beta release, you will be safer by sticking with your current browser.
(Oh, this entry is posted using Safari.)
PS: Look at my comment below. Comment made using Safari for Windows.