Because I cannot vote – apparently.
Remember when Comelec had announced that it had purged around a million names in the Voter's List? When I had read the news, I felt cold. I had feared that my name was stricken off.
Apparently, my fear is not unfounded.
Comelec has an online precint finder. So I entered the needed information:

Click image to view.
Here's what I got: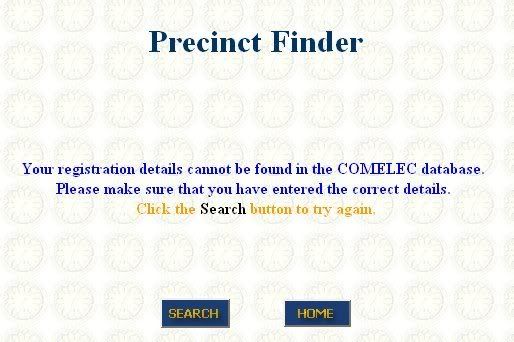 Click image to view.
The irony is not lost to me. Here I am, convincing others to vote on Monday; here I am, not in the Comelec's list of voters.
I know this is not final. Maybe there's something wrong with the database (one friend also tried it and she got the same "not found" message; we both voted last 2004). I wish I had another way of checking (sent two SMS to ComelecTXT, no replies). I'll know for sure on Monday.
Try for yourself and see if you find your precint. Let me know the results.
UPDATE (5/10/07):
Using that same Comelec Web form, I tried searching for my older brother's precint (we always voted on the same precint), and voila, there's an entry. Did that to my other two brothers, all returned positive. So there's still a chance that I will get to vote.