… is not forthcoming in this election period.
The campaign period for national posts has started, and from the way most of the candidates launched their campaigns, this is not an issues-centered campaign.
For example, Grace Poe was criticized for being dramatic, and decided that she should start her campaign by being dramatic:
Drama nga siguro ang tawag nila dito subalit realidad at tunay na buhay ko ito… katotohanan ito na araw araw pinagdadaanan ng marami sa ating mga kababayan.
She tried tying up the drama of her life with the life of ordinary Filipinos. This kinda fell flat, as her life's not ordinary. After all, we ordinary Filipinos do not get to be adopted by the King of Philippine Movies, nor get an American citizenship, nor have children that can afford expensive/fake pair of shoes that costs more than half of what a minimum wage earner gets in a month. Her campaign has yet to release its platform of government. Or maybe her 20-item bullet list mentioned when she declared her bid is it.
Poe launched her campaign at Plaza Miranda, causing heavy traffic in the busy area of Quiapo. Ironic for someone who keeps on harping about traffic.
Jejomar Binay launched his campaign in the busiest street in Mandaluyong, also causing traffic. For those who haven't been keeping watch, he did not launch his campaign in his bailiwick in Makati because for the first time in decades, no Binay is sitting in Makati City Hall. While Binay outlined what he wants to do if elected president, his campaign has yet to release specifics and how he plans to achieve his planned goals. He still has to explain how he got rich.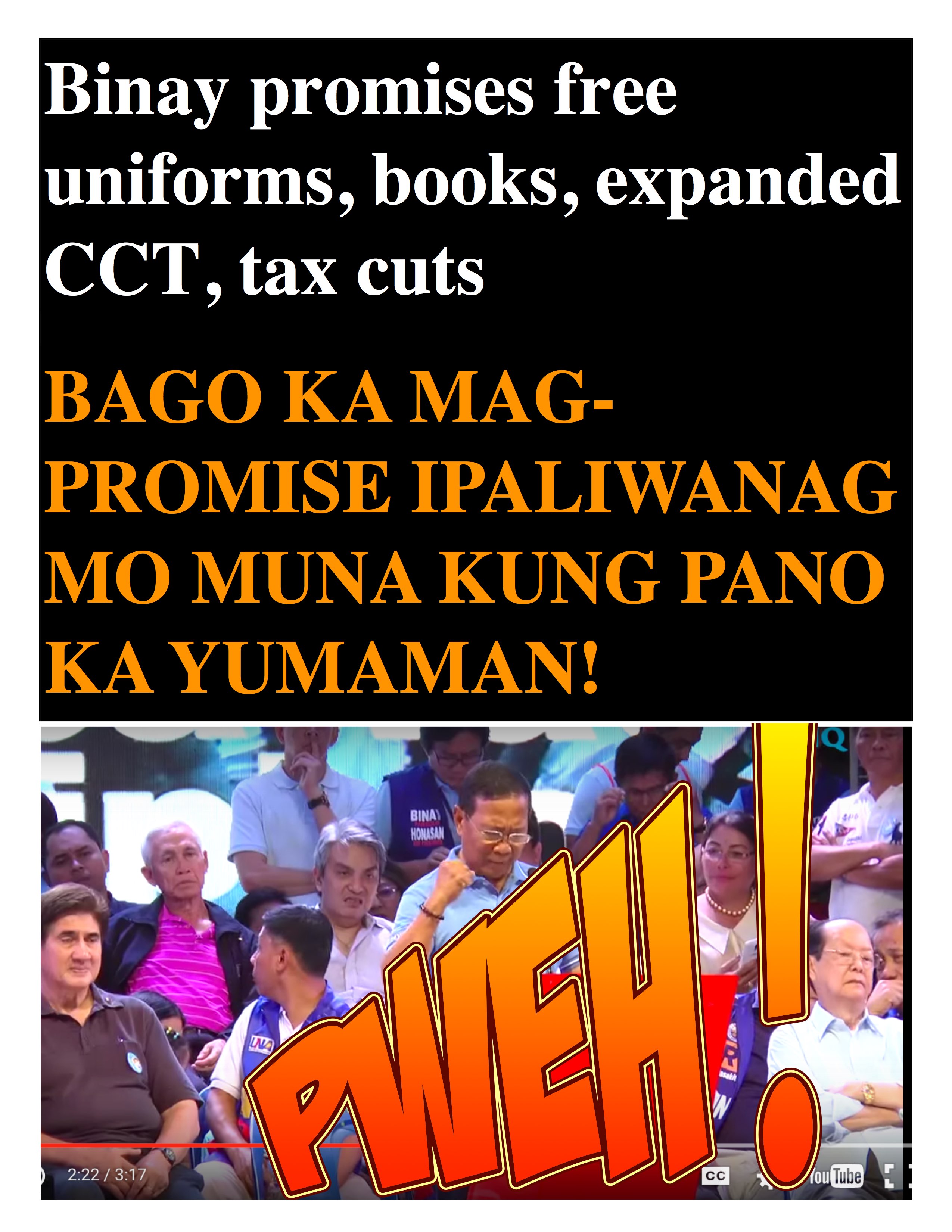 Rodrigo Duterte launched his campaign in Tondo, but not in the most depressed area of Tondo, which is in Baseco. He outlined his platform in a press conference held before he faced the crowds in Tondo. Like the other two candidates, Duterte has yet to release his detailed platform. His antics at the start and immediately after the launch (hell, even prior) are prime examples of what an issues-based campaign is not. He seems to be fixated with another candidate, alleging that the candidate is not a Wharton alumni (only to be proven to be incorrect). Recently Duterte questioned this candidate's manhood, alleging that he is uncut (uncircumcised, circumcision being a sign of antiquated machismo-Spain era manhood).
The Philippine social media follows Philippine politics. Candidates have released their platforms, and one of them has the most comprehensive so far. There's a dearth of discussion on platforms, and I guess netizens can't be blamed, as there is nothing much to discuss. However, the toxicity of personality-based politics permeates Philippine social media. And we're hoping for a discussion on issues? If our candidates are unwilling to do so, what is there for us ordinary Pinoys to discuss? We are left with one candidate's fixation on another candidate's manhood.