The MRT is a disaster that is waiting to happen. All it takes is one accident or mistake, and you'll probably have one disaster that might equal or surpass the Wowowee Ultra stampede a year ago.
Take a look at this picture: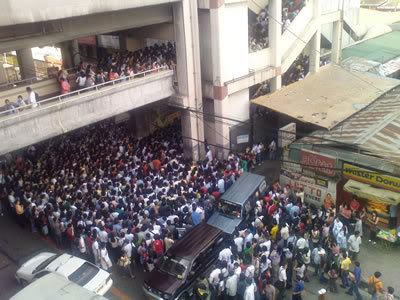 (Photo taken using Sony Ericsson P1i, image size reduced)
This scene at North Avenue Station (south bound) always happens during weekday morning rush hour. Picture was taken at around 8:05 AM. The inflow of people peaks between 7:30 AM and 9:00 AM, and overflow happens due to a lot of factors. For me, the inefficiency of the MRT as a system is the main culprit. Most train systems operate on a time table, and they should operate like clock-work, otherwise the system will crumble. But that is not the topic of this post.
As I have said, this scenario will lead to a disaster; all it takes is one mistake or one accident. I had labeled four parts in this picture where disaster can happen: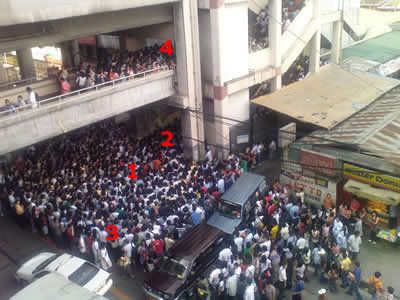 1. Thank Bayani Fernando's Gwapo project for this. The MMDA has raised EDSA's sidewalks by several centimeters. So, imagine this number of people packed together, jostling in. Disaster can happen if one person trips because of the high sidewalk. With the pushing that happens, this scenario is the most probable.
2. After you have survived the MMDA sidewalk, half of the station entrance has two steps. Not as high as the MMDA sidewalk, someone can trip here, since at this point the jostling and the pushing is at its worst.
3. This is the most dangerous – a wayward vehicle. Multiple vehicle collision. Highly improbable. I hope.
4. At this point, you are about to enter the second set of stairs (there are three), and here is a bottleneck. Jostling and pushing is evident here, though not as bad as below. Still, just one person tripping, and it is a disaster.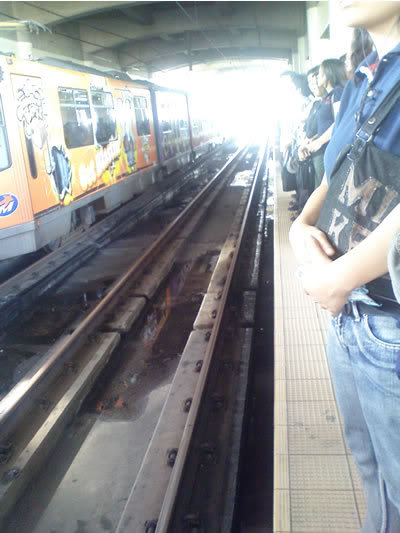 There is actually one more point but I failed to take a picture. This point (pictured above) is at the station platform. Some people, in their eagerness to get in on the coming train, already stand near the very edge of the platform, despite the warnings blaring on the public address system. At rush hour, the platform can be jampacked. And when the train arrives, people are again jostling and pushing to get in. Trust me, if you are near the edge of the platform and the coach door opens, you don't even have to take a step to get in.
Disaster almost happened one time when one lady tripped as she was getting in. Good thing no one's got the worst out of it. But it did bring home the point (at least to me) that the MRT is just seconds from disaster (and yes, that is a show at National Geographic). And hopefully, there will never be an episode of that show that will feature the MRT.